Luis Nigorra Cobián has been president of the Spanish Association of Golf Courses (AECG) since March. A non-profit business organization created to defend the interests of the Spanish Golf industry. Nigorra, who makes this new position compatible with the presidency of the Mallorca Golf Courses Association, highlights the strategic role of this sport both on the island and at the national level. One of the topics that are addressed through a special supplement in the May-August 2021 de Mallorca Caprice by Mallorca Global.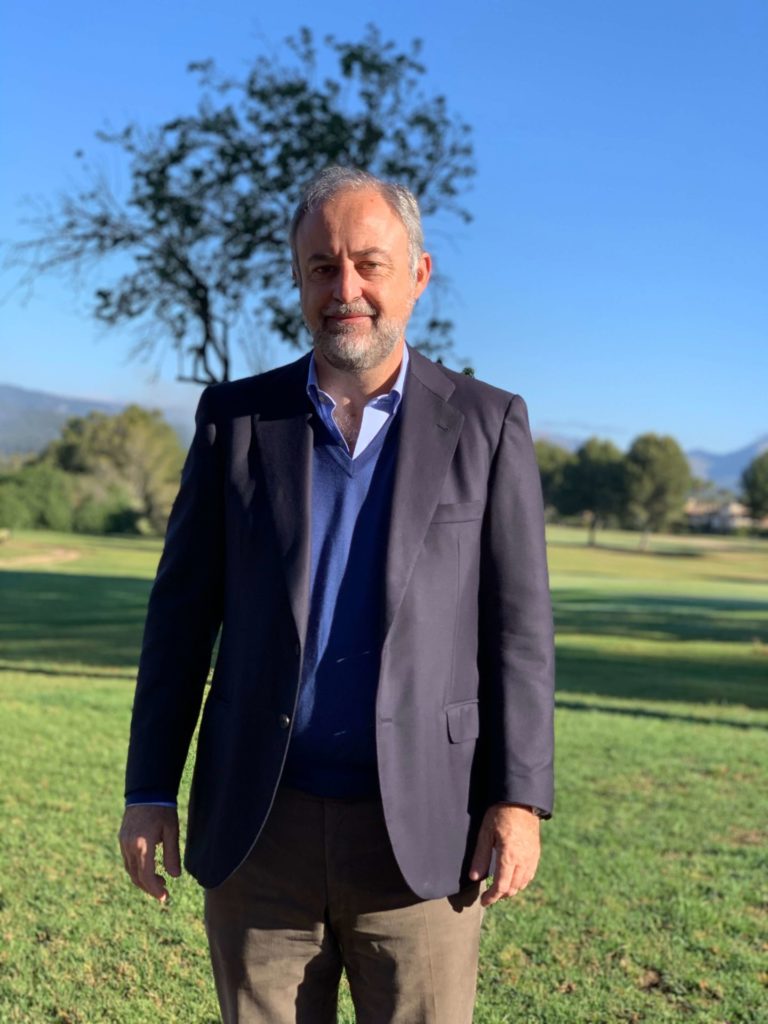 – When you were born there were barely a couple of fields and now Mallorca has 25. How has this evolution been and what has it meant for the island?
– The evolution has been very positive. It has allowed an important change, as with 2 or 5 courses you cannot consider yourself a golf tourist destination. Golfers, when they travel, want to play a course every day. The advantage of having 25 courses on the island, and also with the variety of those in Majorca, is that it positions the island as an ideal golf destination. This makes the average stay of these visitors longer. For its part, the sport itself has also undergone changes. In the beginning it was more social and there were fewer players. Now there are many more fans and the player base both foreign and Spanish brings wealth to it.
– You start in the position to meet the objectives of the Association, especially in fiscal or environmental matters. Could you summarize these goals?
– The main objective is to be present in any negotiation of legislation, local, regional or national. Defend the interests of the entire golf industry, get involved in the negotiation of the collective agreement… Now we focus on the fiscal and environmental issue in that we have a series of shortcomings in the sector. The nature of golf is sporting, but we cannot forget that in Spain this sport is oversized as a tourist asset. In Spain there are 300 courses and we depend on visitors to maintain them. Regarding the tax issue, since 2012 the VAT was raised to 21%, but the rest of tourist services are taxed at 10%. We ask that the tourist rate be applied to us. In this sense, golf is a carrier of capital, because the golfer comes and spends more than the average number of tourists. What's more, even as a sport we should have a reduced rate. As reflected in the economic report 'Network of golf courses · Economic impact study', prepared by the Impulsa Baleares Foundation with the Balearic Golf Federation and the Mallorca Golf Courses Association, golfers spend 7 out of 8 euros outside of fields. We think that if the rate were lowered to 10% we would grow 20% in the number of tourists, with which the collection would also increase substantially, according to estimates. We also have other requests, such as lowering the Real Estate Tax (IBI)…
– And what about environmental objectives?
– At an environmental level, we will carry out a series of studies. We have to provide a lot of information because it is not true that golf is not sustainable. The fields and companies are an important asset. 70% of golf courses in Spain are irrigated with recycled water (in the Balearic Islands this figure reaches 100%). Although we irrigate with recycled water, a lot is being invested in new irrigation systems, varieties of grass that use less and less, etc. In addition, many birds that migrate from Europe to Africa stop in the fields, they serve as a refuge. We have a very powerful biodiversity and yet there are many myths around. We would also like them to expand the list of phytosanitary products that can be used: we are the country with the most harmful list in Europe; we cannot use products that are used in other countries or in the agricultural sector.
– What is the position of the Balearic Islands with respect to Spain or other countries?
– Geographically it is very different depending on the location. In Madrid there are mainly large social clubs and they receive less tourism. Andalusia and the Costa Blanca are more touristy fields, as in the Balearic Islands. Spain is the world leader in golf tourism with 1.2 million tourists a year and each territory has its market. Here in the Balearic Islands we receive more Germans and Nordics; In Andalusia, more British… Mallorca has the advantage of being in a geographical area where you can go to the furthest countryside in less than an hour by car, there are large and very varied courses. From long routes that can host big championships to other that adapt very well to the amateur athlete. Flat areas (Son Antem, Santa Ponsa, Son Vida…); others have more mountain (Andratx, Bendinat, Son Termes); courses with sea views such as Alcanada, Val d'Or… To this is added a hotel plant that in recent years has been greatly modernized, with which customers can stay in well-managed hotels with a good restoration. The island is a paradise for the golf industry.
– It can be deduced from your words but what score do you give to the golf courses in Mallorca?
– The maintenance is really very good, the greenkeepers work very well… We have a very good product. In general, Spanish courses compete internationally for their good quality. Other destinations, due to price, may be cheaper but we compete in quality and I think that is positive. We get a good mark and the tourists who come are happy.
– What can Mallorca learn from other golf destinations and courses in other countries?
– Perhaps that in other countries society values ​​golf more as an activity and is recognized for what it contributes. It is a sport that has a reputation as elitist and it is not true. In Mallorca there are courses in which you can be a member for 1,400 euros and practice all year round. Many people pay that for a gym and they are not perceived as elitist. There is still a lot to educate society so that it knows what a real golf course is. Appart from the great golfers, with a high physical level, it is a sport that becomes more flexible and when you are older you can adapt it to your abilities.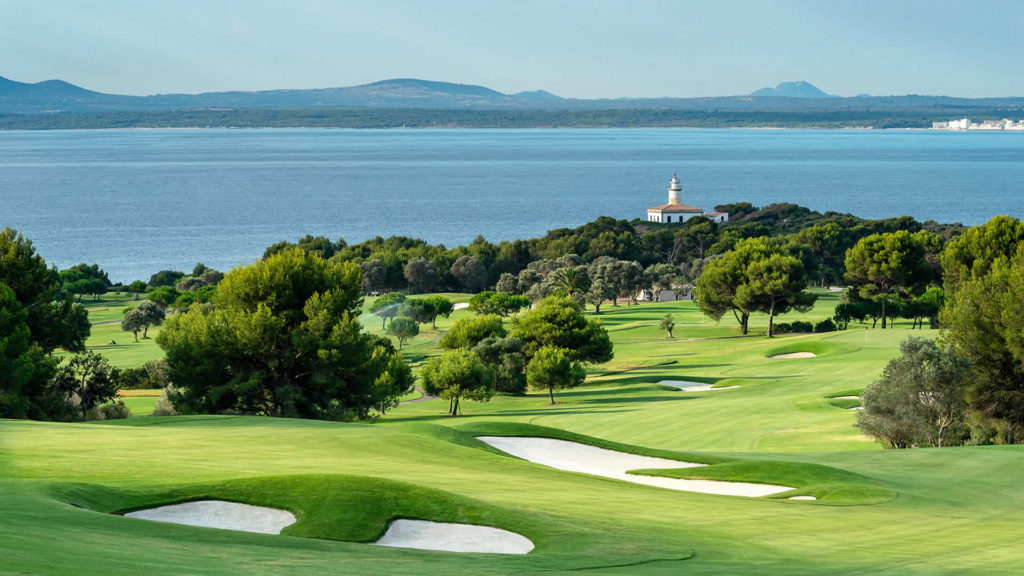 – Is there room for more golf courses in Mallorca?
– Golf courses occupy 0.3% of the island or, more graphically, 6% of Palma. For space in the market, there could be some more, but Balearic law does not allow the construction of new golf courses. What we can do is to grow considerably with the fields that we already have. There are months like those of summer or those that go from November to March with a lot of growth potential, in which the number of golfers could increase in a very important way without the need to increase the fields.
– It seems that fans of this sport are increasing. What is the profile of new golfers?
– After lockdown, interest in golf has grown. It has been seen that it is healthy, you walk between 6 and 8 km on a course of 18 holes and it is a safe sport, in which you can maintain the distance. As for the profile, there is everything. Lots of young people, especially whenever a young golfer becomes popular, which helps. When I was young, Ballesteros and Olazábal broke in and this causes an aspirational aspect. Now, for example, John Rahm is a magnet for many young people. There are people of all kinds, from liberal professionals, older people… This gives diversity, you interact with people of different ideas and that enriches. You meet other people and you get together to play, you meet new people. The social part of golf has its role, you can go through the 18 holes chatting. In addition, thanks to the handicap system, families and friends with different levels can play together, each with their own score. It is an advantage, it is not the same as facing Rafa Nadal in tennis and trying to return a ball…
– Where does the future of the sector in Mallorca pass through? What is left to do?
– We would like to continue growing in the number of tourists, as a recognized golf destination. In recent years we have had a little more political support because they have realized all the value that golf brings. Both the Government, the Consell and the AETIB have decided to support an important tournament such as the final of the Challenge Tour: 'Road to Mallorca', and they also support us in some of the commercial actions we do in the issuing markets. It is difficult to compete with Andalusia or the Canary Islands, our strongest competing destinations, because they also have money from Europe to support their actions. We appreciate the institutional support in recent years, but we have to manage to grow in the number of golfers and consolidate ourselves as a powerful golf destination, because that will bring much benefit to the island. At the local level, we should improve the knowledge of this sport among society so that they see its benefits and the positive of golf. If we achieve these two things, we will be on a good starting position to have a promising future, with well-maintained golf courses, healthy companies and guaranteed continuity.