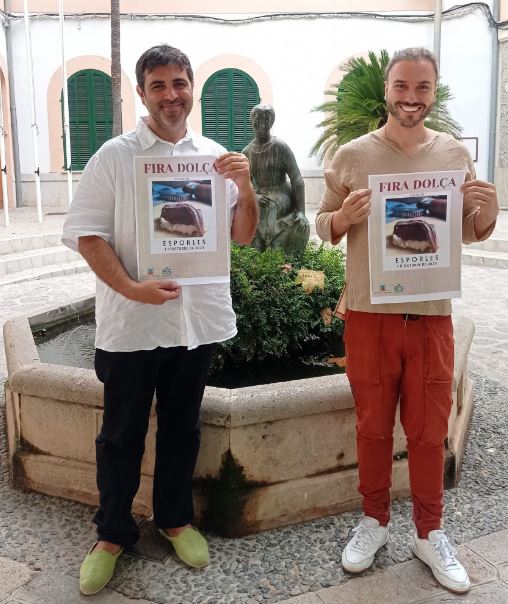 Esporles celebrates next Sunday October 1 the seventeenth edition of the Fira Dolça 2023. One more year hundreds of bakeries, stores and local businesses will present their sweets and handmade products. Among these you can taste the traditional 'ensaïmades', 'crespells', cakes or ice cream while walking through the streets of the town decorated with fun motifs related to this holiday.
The Fira Dolça 2023 that is celebrated every year in Esporles already has its poster and a preview of its extensive program. The mayor of the Serra de Tramuntana town, Josep Ferrà, and the councilor for Economic Promotion, Jaume Terrassa, presented the design by Joan González and photography by Margarida Carrió, a photographer from Esporles.
As is tradition in the municipality of Esporles, the sweetest fair of all the Balearic Islands, the Fira Dolça 2023, returns on Sunday October 1.
One more year hundreds of bakeries, stores and companies will participate in the seventeenth edition with sweets, artisan and local products. Of course the event will not miss the classics of Mallorcan pastries: 'ensaïmades', 'crespells', cakes, ice cream and lots of chocolate. The stalls of the fair will fill the most central streets of the old town of the municipality.
Program of activities for Fira Dolça 2023
In addition, the fair will feature an extensive cultural and artistic program related to the pastry aimed at all audiences and families.
In the program of the Fira Dolça d'Esporles 2023, culture and tradition take center stage with the celebration of musical performances. Pep Suasi, the Banda Lira Esporlerina, Rondalla de Maristel-la and Maria Bimbolles will be some of the guest artists. There will also be a meeting of embroiderers and a demonstration of the Castellers de Mallorca, along with parades of the 'xeremiers' and exhibitions. Among other activities, also highlights the popular dance group Ramallets. Food lovers can enjoy a wine tasting, 'showcookings' by Juan Antonio Fernández and Rebeca Carlota Giménez, and teachers and students of the School of Hospitality of the University of the Balearic Islands (UIB), as well as cooking workshops.
On the occasion of the fair, the streets of Esporles are decorated with the designs made by the students of the school, the institute and the Day Center, at the beginning of the course, which are located on the facade of the Town Hall. In addition, you can not miss their classic cupcakes hanging in the Passeig de Esporles.