The spring-summer edition of the magazine Mallorca Caprice by Mallorca Global is having a great reception in the streets of the island. Since its recent launch last May, many Mallorcan people have turned to newsstands to purchase a copy of the publication, whose main message, 'Mallorca's moment', focuses on the challenge facing the island at the moment to recover its international tourism leadership.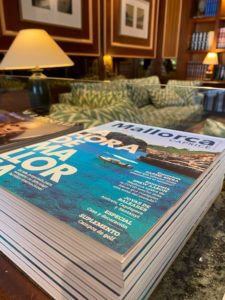 The topics addressed in this new issue of the magazine published by the Mallorca Global agency, a marketing and communication workshop, are generating a great impact, by addressing current issues that are part of the public debate at the moment. From the reflection on how Mallorca can be strengthened after the pandemic to the gap that this has generated in the mental health of citizens. In addition, as usual, its pages include interviews with people of maximum local, national and international relevance. This is the case of the conversation with the writer Carme Riera, the American businessman Drew Aaron or the special envoy for the United Nations Ocean, Peter Thomson. This edition is completed with two special supplements on golf and on the latest trends in home and decoration.
In addition to its distribution in the kiosks of Mallorca, where readers can get hold of a paper copy from now on, the magazine is present in a large number of premium establishments on the island, in the main golf courses, 5-star hotels, coffee shops, Cappuccino, etc.
Record of web visits in May
For its part, the Mallorca Caprice website, mallorcacaprice.com, reached a new record in May in the number of users and visits, with 41,600 page visits in the fifth month of the year. The increase in users, 258% more in the last three months, is the result of a redesign of the site and a strong commitment to current information on the island that began in January.
At mallorcacaprice.com readers have informative pieces on plans, culture, leisure, current affairs, sports and business news. It also highlights the useful information for citizens, such as that related to current restrictions, as well as information on restaurants, excursions… Without forgetting the impact of their own projects such as the recent exhibition that took place on Paseo del Born, "Mallorca a casa" , and the contest "Mallorca: Reconciliation gazes".
The data recorded in the online field reinforces the offline leadership of the magazine, which from this year becomes quarterly to offer more and better content to its readers.