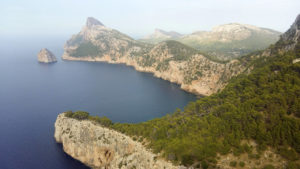 While waiting for the authorization of inter-island mobility in the Balearic Islands, residents have to settle for the geographical limits of Mallorca. That is much more that it could be, given the natural, scenic and cultural scene of the island.
Cape Formentor is that point where Mallorca ends, the furthest place to which we can travel during these weeks. What better destination to visit with family, friends or even alone. And make a wish: Health, more than ever, and return soon to travel freedom after the coronavirus crisis.
To get to the northernmost point of Mallorca, it is best to go by car. In addition, according to sources from the municipality of Port de Pollença, this year there are no traffic restrictions as in previous seasons, because fewer tourists are expected. However, in the event of large traffic jams and crowds, they would consider resuming the shuttle bus service to reach the Formentor lighthouse.
Its bumpy road, riddled with curves, offers incredible views at every turn. The starting point is Port de Pollença, the beginning of the path that runs along the entire Formentor peninsula. Leaving to the right the imposing bay of Pollença and to the left, the Mediterranean corridor between the Balearic Islands and the peninsula. An incredible journey of about thirty minutes full of images to remember before reaching the lighthouse of Formentor: the 'meeting point of the winds', as defined by the residents.
What you can't miss
On the way from Port de Pollença to the Formentor lighthouse there are some stops to fully enjoy the attractions of the area. The first is the Es Colomer viewpoint, from where you can capture incredible panoramic views. As you approach the lighthouse, you will find more places to stop and take pictures.
Its beaches are also a must. The Formentor beach, a narrow strip of sand very visited in peak season. And Cala Figuera, whose crystal clear waters will make you fall in love if you decide to go down the natural path that leads to the cove.