The Contemporary Foundation has released the best cultural proposals of Mallorca in 2020. The results of its annual consultation, this year marked by the coronavirus pandemic, reflect the consequences of this crisis. An Observatory of Culture in which activities such as festivals are missing, which in other years stood out among the best cultural proposals of the year. Of course, the observatory confirms that, even in such a complicated year, a very wide and high-quality cultural offer has been developed both in Mallorca and throughout the Spanish geography.
Ranking: Best cultural proposals of the Balearic Islands in 2020
The Teatre Principal de Palma repeats in first place in the Balearic ranking. It is followed by Es Baluard,
Fundació Mallorca Literària, CaixaForum and Atlàntida Film Fest. The first places are completed by the Gremi de Llibreters de Mallorca, the Teatre de Manacor and the Orquesta Simfònica de Balears. CaixaForum and The Juan March Foundation, with offices in Palma and in other communities, appear in the national ranking.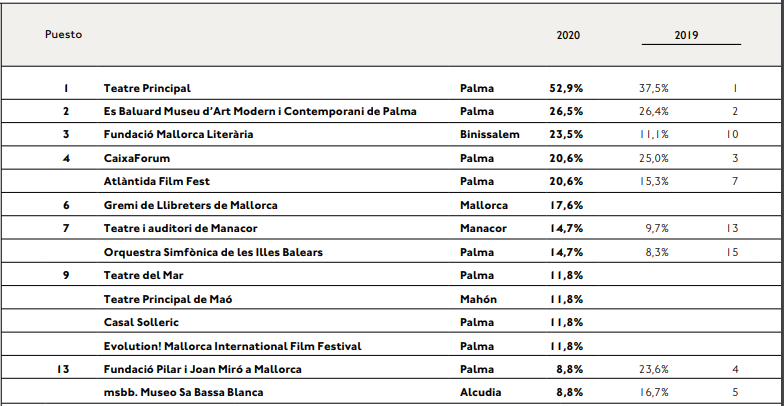 The report reveals revealing data on the culture sector in Spain. The impact that the pandemic has had on the public of cultural entities stands out. 6.7% have no audience because they are not active; 80.7% have less public due to capacity limitations for their activities and only 8.9% have recovered their usual audiences. 19.3% declare that their activities have today, under equal conditions, less response from the public.
The data on the adaptation of cultural proposals to the digital medium are also relevant. 74.7% claim to have temporarily adapted some physical activities to a digital format during the pandemic. While 63.9% have created extraordinary new content and activities on digital media.
To carry out the Observatory of Culture, the Contemporary Foundation sends a questionnaire to a panel of experts. Their votes are the ones that give the% of valuation coincidence in the top ranking. This 'jury' is made up of more than a thousand top-level professionals from our culture: writers, artists, directors and actors, musicians, architects and creators from all fields; heads of foundations, directors of museums, cultural centers and institutions; editors, producers, promoters, gallery owners and managers of cultural industries; exhibition curators, cultural managers and professionals in the sector, as well as heads of cultural areas and institutions of the central, regional and municipal public administration.