The Sant Sebastià 2021 Festivities in Palma will go unnoticed. The City Council had already canceled the bonfires, the Palma revetla and the correfoc. Events whose celebration, with the current contagion indicators in the Balearic Islands, seemed unlikely. However, January began this 2021 with the forecast of having several concerts during the festivities of Palma. But the pandemic, which places the Balearic Islands among the autonomous communities with the highest incidence, has once again forced to change plans.
What are still active in the program of the Sant Sebastià festivities this 2021 in Palma? On January 11, the City Council announced the total cancellation of the festivities. Thus, the concerts planned in closed venues, the proceeds of which were intended to be allocated to social entities for the fight against the pandemic, were canceled. Also sports and cultural activity, the City of Palma Awards… In short, what many already took for granted was made official: This 2021, there will be no Sant Sebastià.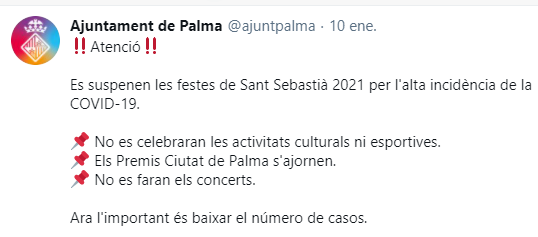 Just as the bonfires, the festival and the Correfoc were suspended a month ago following the regulations of the moment, now the concerts, cultural activities and the rest of the activities that make up the program have been canceled, such as the Cycling Day. In relation to the City of Palma Awards, they are postponed and will be held once the situation stabilizes.
This measure seeks to contain and reduce the high epidemiological incidence that currently exists in Palma and Mallorca, which has reached its highest figure with more than 600 cases per 100,000 inhabitants in 14 days.
Sant Sebastià in Mallorca Cathedral
Given the suppression of cultural activities, the Cathedral will celebrate the Eucharist in honor of the patron saint of the city. Chaired by Mons. Sebastià Taltavull, it will take place on Wednesday 20th at 10:30 am, following the strict measures already established: masks, safety distances, hand washing and with a capacity of 30%. Another activity for these Sant Sebastià festivities is the visit live, through the Cathedral's Instagram account (@catedralmca). In it you can enjoy each of the corners of the temple with virtual tours. This visit will last approximately 30 minutes and will take place at 10:30 a.m. in Catalan and at 11:00 a.m. in Spanish. It will be on January 21 (San Sebastián in the Cathedral of Mallorca) and January 27 (Symbols and attributes in the Gothic Chapter House of La Seu).
Another announcement that will take place during the festivities is that of the winners of the Ciudad de Palma awards. Although the gala is postponed until the end of May, the Culture area of ​​the Palma City Council will announce the winners on January 20, the feast of the patron saint of Palma.
No sign of any other activity during this Sant Sebastià 2021 in Palma, which will go unnoticed to continue fighting against the high incidence of infections and the expansion of the coronavirus on the island.