Magaluf will host the first "Literatura Expandida" cultural festival in October. Under the slogan "culture beyond the limits", the festival aims to bring culture to new audiences. For this, writers, artists, musicians and cultural agents will meet on the rooftop of the Innside Calvià Beach hotel, from October 1st to 3rd. There they will share their work and reflections through a wide program of activities and cultural proposals.
This first festival "Expanded Literature" in Magaluf follows the line of reinvention of the area. An innovative proposal to attract higher quality tourism, organized by the independent bookstore Rata Corner and the Innside by Meliá hotel brand.
The event has the support of the Calvià City Council and was born with a double objective. First, vindicate the transforming role of culture and bring literature to new audiences with a modern, transgressive and close proposal. For this, the poster of this first "Expanded Literature" in Magaluf will be made up of guests of local, national and international reference. Among them, Trainspotting author Irvine Welsh; artists like Paula Bonet, Flavita Banana, María Herreros or Ricardo Cavolo; the writers Antonio Muñoz Molina, Elvira Lindo, Carlos Bardem or Bob Pop; the performer Samantha Hudson, the poets Marwan and Maria Sevilla and musicians such as Russian Red and Aina Zanoguera. In addition, more participants will be announced soon on the festival website.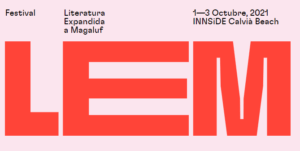 "Expanded Literature" Program
Over three days, the rooftop of the Innside Calviá Beach hotel will be the setting for multiple talks, concerts, recitals, gastronomic experiences, book signings or live artistic interventions. In addition, there will also be a literary catamaran tour along the Calvià coast, among other activities.
"The celebration of this festival is an extraordinary opportunity to place Magaluf on the island's cultural map and rediscover this fantastic destination in Mallorca, which has been totally renovated and offers much more than everyone imagines", says Alberto Lalinde, Managing Director Eastern Spain & Balearic Islands of Meliá Hotels International. For his part, Miquel Ferrer, head of Rata Corner, remarks that "independent bookstores have reinvented themselves and become something more than simple book stores. With the desire to go beyond the bookstore," Expanded Literature "was born, which it will turn Magaluf into a meeting point for writers, musicians, artists and readers for a weekend".
The mayor of Calviá, Alfonso Rodríguez, highlights the importance of this type of event for the municipality. "Literature, like culture in general, has a force of social cohesion that we must continue to promote for Magaluf and for all of Calvià. It is time to break stereotypes to claim our municipality as a destination for quality cultural experiences".