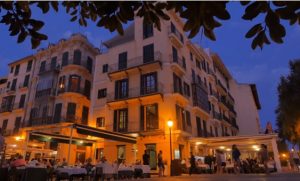 The Lonja district is on the rise and growing with boutique hotels, delicatessen shops and emblematic shops, but its strong point is still the Mediterranean essence. In this respect, the Caballito de Mar restaurant provides a recipe book that tastes like Mallorcan tradition and that can be felt in each of its dishes.
Caballito de Mar prepares to receive Christmas. Reservations can now be made for lunches and dinners on these important dates, ideal for celebrating with co-workers, family or friends.
The menu offered by this restaurant, located right on the promenade, is very varied. It offers 3 types of menus, suitable for all pockets.
The starters are to be shared in the centre of the table and the main dish depends on the taste of each diner: sea bass, hake medallion, stuffed thigh, low steak loin, cod loin, veal tenderloin. All made with 100 percent local raw material.
These menu options are valid for all winter 2019/2020 from 7/8 people for lunches, company dinners, meetings. Estimated wine consumption is one bottle per 3 diners. Dessert, bread and olives included in the price.
Reservations: eventos@caballitodemar.info / 971721074/ 971495685
You're in the center, a very well-placed place. When you finish your dinner, the Paseo Marítimo offers you a multitude of possibilities to continue the party. If, on the other hand, you have chosen a Christmas lunch, you can always stroll through the architectural complex of the cathedral and the Parc de la Mar.
Author: Irene Viseras