The books will go back to the streets of Palma again to celebrate Sant Jordi in 2021. The Gremi de Llibreters de Mallorca has presented this year's edition that will be held on Friday, April 23, with the participation of 28 bookstores that will be distributed between 12 different locations in the city. The goal is for people to be able to look at books and shops with enough distance and with ease.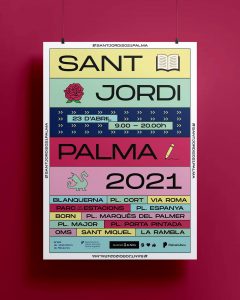 This book fair will begin at 9:00 a.m. on April 23 and will last until 8:00 p.m. An event that has the collaboration of the Consell de Mallorca and the Palma City Council.
Discounts for Sant Jordi
This year the activities will focus on the books signing, which will be informed through the social networks of the Gremi de Llibreters de Mallorca. The Sant Jordi campaign will be staggered to guarantee the safety of the participants.
As a novelty, throughout the week of Sant Jordi -Monday 19 to Saturday 24 April- participating and unionized bookstores will offer a 10% discount. This is to facilitate safe shopping and encourage readers to celebrate World Book Day by discovering, giving and giving away books.
The presentation of Sant Jordi 2021 in Palma was attended by the Vice President and Minister of Culture, Heritage and Language Policy of the Consell de Mallorca, Bel Busquets; Antoni Noguera, Deputy Mayor for Culture and Social Welfare of the Palma City Council, and Àlex Volney, president of the Gremi de Llibreters de Mallorca, accompanied by participating booksellers.