Text: Raúl Beltrán.
International travel hardly exists when before "I was always away: Santo Domingo, Mexico, Jamaica, Miami…". The pandemic has changed the rules of all sectors, including photography, of which Nando Esteva is well acquainted. "It is time to reinvent yourself", he says. His creativity and his particular eye behind the lens have earned him more than a hundred recognitions around the world. Except in Mallorca, the homeland of the successful photographer, where he is not, for the moment, a prophet. Perhaps his flirtation with advertising has overshadowed the genius of his artistic side, despite the fact that Esteva makes advertising art.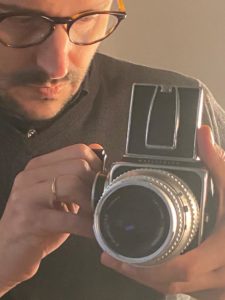 – In what percentage of your photos do you appear?
– I would say that 1%, in fact it has been recently, during the pandemic with the series "Origin". I made a self-portrait by the circumstances, being at home. A series in which I revealed photos from China on Italian pasta. It summarizes the journey of the coronavirus, which originated in China, scared us when it passed through Italy and then came to us. I only appear in a frame of a project. I've never appeared before, I'm always behind the camera.
– You have hundreds of awards… Which one would you highlight as the most important?
– I will always say that for me it is the first, with the series "Faces" that I created in 2009 and on which I made an exhibition in 2010. From that moment my artistic career began and I started to reconcile art and advertising work. I received a national award that I couldn't collect because I was working in Mexico. "Faces" was the tribute I paid to my father, who died of cancer, with which we were third in the LOOKs awards in Spain. For me it was the trigger; I realized that I got there from a selection of 3,000 photographers. I thought: why not keep trying internationally? It was the first of the hundred-odd international awards that I have. Like 110-115, because I don't really count them. The last of the most recognized has been in Japan, where I mix leaves from my garden during the pandemic with a trip I made to Tokyo years ago and that marked part of my career. I was able to photograph geishas that I captured in the photographs of the leaves. A combination with a clear motto: we are locked up, but art is still free. Each week of lockdown I was able to create art and make art travel despite being locked in a house.
– In Mallorca, have you received any awards or are you not a prophet in your land, as is often the case?
– The truth is that few. I received one in Alcúdia as the best gastronomic photographer 3 or 4 years ago. And nothing else. I have had some mention in Palma, but no important awards. I have been more recognized in Barcelona, which has marked my career based on the national awards in Spain, the LOOKs. And internationally, France, the United States, Japan, Russia and China above all. I have had to appear personally in Shanghai on several occasions for works that I have done. Not being a prophet in my land is true, but I think this happens to everyone. I do not know what explanation it has but I fight for what I am doing is recognized. I think we have to fight a lot abroad so that they listen to us inside and I consider that I am on the way so that one day I may also be recognized here, something that has not been possible at the moment.
– How were your beginnings in photography?
– Success came with "Faces" in 2009. Before these 25 years of career, I dedicated myself to advertising and traveling around the world as an assistant to a Hawaiian with whom I started working when I was only 16 years old. I was with him for 7 years, but then my father got sick and I already stayed here in Mallorca. I stopped traveling because I wanted to be with him, who suffered from an illness for 10 years. From here, I got on my own, going from analog to digital with a brutal change looming. I decided to renew the whole team and since then I have constantly experienced changes.
– How does a young Mallorcan end up traveling the world with a Hawaiian?
– I was in high school in Palma and I wanted to dedicate myself to journalism; I really liked the press, but it was not clear to me. My father was an architect, he did some advertising and he met a Hawaiian photographer. He suggested me going with him on a trip and meet this photographer, something we really enjoyed. He partly did it to communicate more and better with each other. After meeting the photographer, I started as an assistant in his studio in Palma: sweeping, scrubbing, cleaning, painting… I didn't touch a camera, nor did I smell it! From sweeping, I became an assistant and started fooling around with photography. Eventually my father died and I made something of my own. I became independent at 17 in Palma, I traveled a lot with the Hawaiian photographer. It was a very young stage and one with a lot of responsibility. I missed that part of parties, etc. But in return he served as an assistant to a renowned photographer and traveled the world in a somewhat chaotic life.
– His portfolio includes videos and very creative projects, such as the one that makes an art hamburger. What's behind such a job?
– This one in particular is a call from Profoto, the world's leading flash brand. They have been behind my work for a long time and I was surprised by their call because they only collaborate with very established photographers. He was trying to start with something very basic, a live on Instagram, focused on a global audience that wanted to see my studio, which I have always been reluctant to teach. Whenever something is proposed to me, I try to turn it around: it is that part of transgression and originality that characterizes me. I proposed to do something different with Abel Castro, an eminence in lighting, and since I have a kitchen in the studio… I paint a lot, with spray and different techniques to later photograph and create art. I decided to paint, over the course of four days, certain elements of a hamburger looking for the oxidation of the products and thus see how it was oxidizing during those days before the live show, which was very popular. In the end they regretted that it was not broadcast on YouTube to have achieved more quality. So we are preparing a second major job. In short, it was a more rogue project, more impressive, with an atmosphere and a smoke machine… There were few people behind it, we were 4 or 5. In normal situations, several people are connected on my computer together with people in Buenos Aires, Chile, United States , Dubai… We can be up to 30 people giving their opinion live for one session. Production is what you have.
– How is artistic discipline combined with advertising?
– One thing is linked to the other. I was advertising at a beginner level that I later developed with campaigns with Rafa Nadal and other athletes and that got more complicated until I launched a significant investment in cameras, etc. But when I was awarded for "Faces" and my work was recognized, I made it my obligation to make several art collections a year that would provide me with knowledge, wisdom and photographic technique. They are personal projects in which I develop new techniques and unleash originality. To do this, you have to be documented much earlier. It is a closed cycle in which you learn, learn and learn, so then you can contribute your bit in quality and originality to the big brands. I think that both disciplines combine a lot but at the same time they are far from each other. Because doing art and advertising has also penalized me; art galleries are not interested in my work. Still, it makes up for me to play both, because that's how I've been able to survive these 25 years. Cameras, lights, cables, cards, computers… The investments are constant and without advertising I could not sustain it. Now I have also started selling my artistic pieces. Art and advertising are a love hate but it is incredible to touch both, because it brings a lot of knowledge.
– What remains from before, during and what do you expect after the pandemic?
– Before: maximum madness. An uncontrolled life, emotionally, psychologically and at work. You are tumbling, at a frantic pace. The daily routine is a maximum requirement where not everything goes and everything has to be for now. Even going through the emergency room many times, you get sick. Even if you are successful, you demand more and more of yourself until I see myself in Santo Domingo in February 2020, I arrive in Mallorca, I start to see people with masks and they lock me up while a messenger knocks on the door with a whole new photography equipment himself day they confine us. Woof! Stoppage and with new equipment… So it's time to pause and suffer it. All annual contracts are paralyzed because there is nothing to do and you begin to internalize everything that happens, without giving up and making art to continue training, practicing, learning and enjoying my family. To get to the moment where we are now. A staggered opening but respecting my time and myself more, stopping at a certain time, enjoying loved ones and valuing things much more. What will happen in the future? I imagine that we will return to the frenzy, but mental health will become more important. I want to be prepared to have a good mental health and to be able to manage and combine work and family. For me, this is a great opportunity in which I want to learn to be a better person and a better professional. It has caught me in a privileged situation, but also with fears. I believe and hope that this will make us a better society, despite all the suffering of so many people.