A varied range of crafts, food and music seasoned with activities for the whole family are the ingredients of a new edition of Rata Market Marratxí 2023. On this occasion the meeting is at the Museu del Fang from 11 am to 21 hours today Saturday
The fifth edition of the Rata Market Marratxí 2023 arrives, which will occupy the Museu del Fang and the small forest around the town to fill it with local, sustainable and related to art, design and crafts proposals. The event will take place this Saturday, September 23rd from 11 am to 9 pm.
Among its program of activities are about forty art, design and craft projects with quality products that are difficult to find in conventional fairs. In addition, a bar service and food trucks will offer hamburgers, artisan ice cream, bread and pastries, healthy pastries, coffee, sandwiches and distillery, among other items.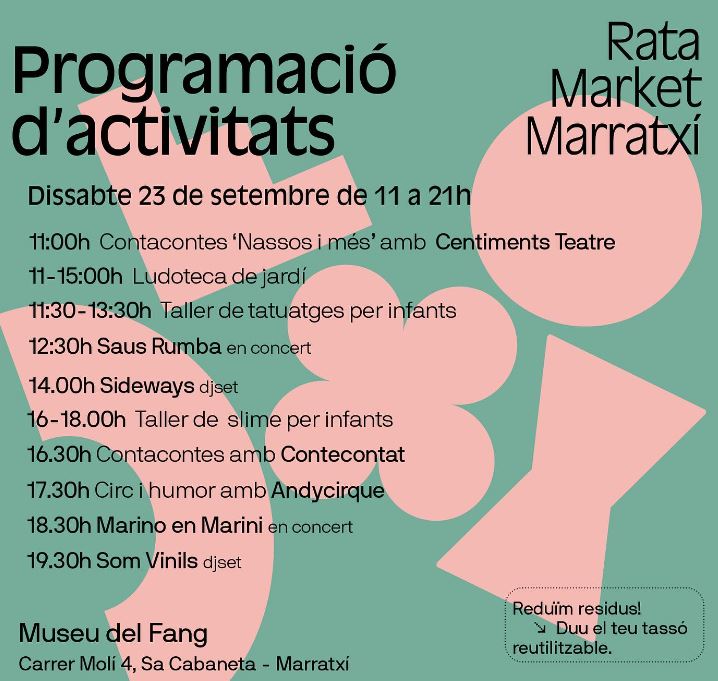 Programming of the Rata Market Marratxí 2023
Saturday 23rd September
From 11 to 21h::

11:00 h. Storytelling with Centimets Teatre
From 11 to 15h. Playroom of Jardí.
11:30 to 13:30h. Tattoo workshop for children.
12:30 h. SausRumba in concert.
14:00 h. Sideways DJset.
From 16 to 18h. Slime workshop for children.
16:30 h. Storytelling with ConteContat.
17:30 h. Circus and humor with Andycirque.
18:30 h. Marino e Marini in concert.
19:30 h. Som Vinils djset.