Until the 31st of March you can apply for the new call for the 200 € aid of the Consell de Mallorca "Bo per a les famílies" with the aim of alleviating the effect of current inflation on households on the island
The Consell de Mallorca has earmarked 5 million euros for this line of aid, which will benefit 25,000 people with incomes of up to 200 euros. The call for applications is open until 31 March. The aid is offered through the IMAS.
Who can apply for the aid?
In this new call for applications "Bo per a les famílies" the requirements have been extended to reach different household profiles. The characteristics are as follows:
The aid is no longer subject to family nuclei.
Natural persons residing in any municipality in Mallorca can apply, whether or not they have dependents or live with another person.
During the tax year 2021 they must not have exceeded 25,200 euros of income, in the case of making the individual declaration.
42,000 euros in the case of joint tax returns.
How is the application procedure carried out?
As in the previous edition, the procedure is exclusively online.
The application can be accessed through the electronic headquarters of the Consell or the IMAS noticeboard or the website http://imasmallorca.net/boperalesfamilies.
Access is available 24 hours a day and every day of the week, including non-working days.
In order to fill in the application form, it is essential to have an electronic certificate or DIN-e or to be registered in the Cl@ve PIN system.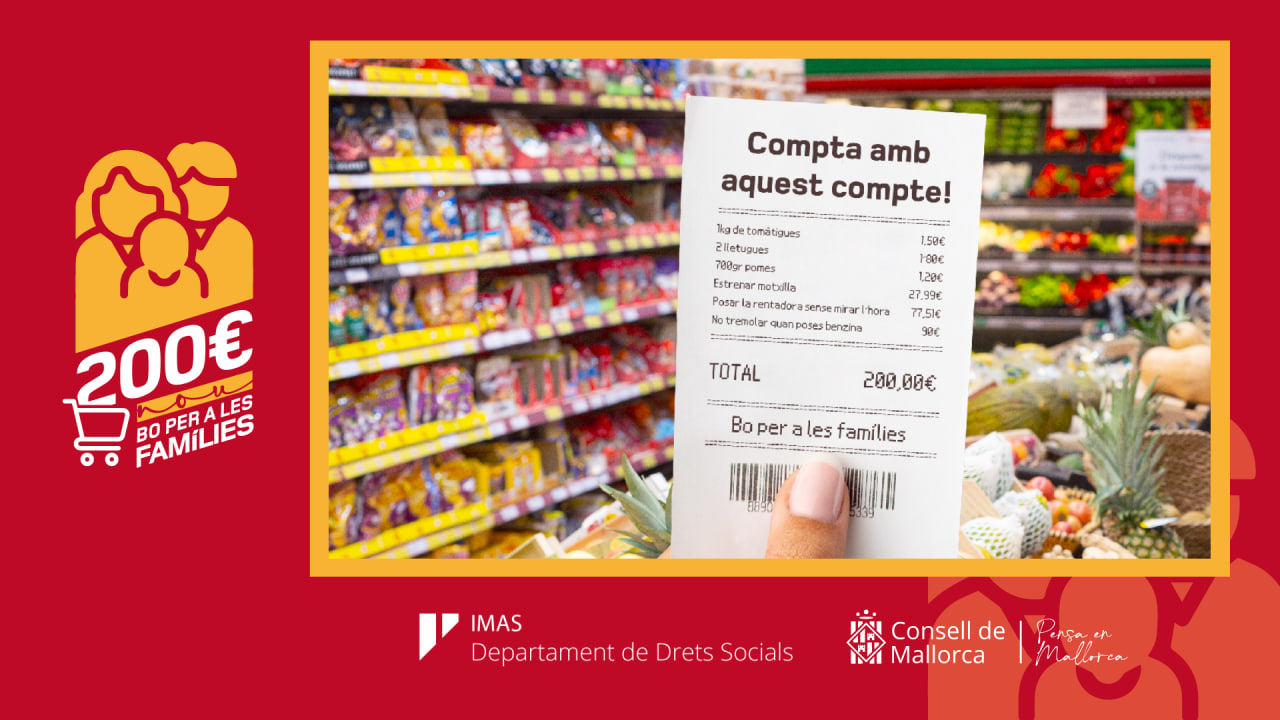 How can I access all the information?
To facilitate access to people who do not have electronic means, agents of Mallorca Activa will travel to different municipalities of the island every day.
All the information can be found on the platform's social networks, as well as on the IMAS website.
The Twitter and Facebook accounts of the institution will publish the localities visited and the meeting points.
The IMAS free phone number 900 100 444 will answer any questions related to the process or the call for applications.
Mallorca Activa has also made two telephone lines available: 617 36 16 42 and 617 97 56 64.
"Bo per a les famílies"
"Bo per a les famílies" is one of the measures of the social shield of 22 million euros that the Consell de Mallorca has deployed in the form of aids aimed at young people, families, the elderly, the cultural sector, companies and the self-employed.
Within this, 5 million euros have been earmarked for the launch of this new call for applications for the 200-euro grant, which aims to reach 25,000 people. Its aim is to alleviate the generalised increase in prices.
This one-off aid is compatible with other benefits.
In addition, all the beneficiaries of the first edition of the campaign, announced in October 2022, can apply for it again.